Mobile / Responsive Website Designs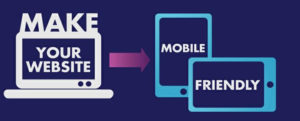 Today's browsing patterns have changed the internet.  Once most searches were done via a desktop or laptop.  Today that's not the case.  76% of all searches for a local business or service are done from a mobile device, either a smartphone or tablet.  If your site isn't mobile friendly, visitors will quickly leave your site and go on to the next one.  While your website may display on one of these devices, that doesn't mean it's functional.  It also doesn't mean that Google recognizes your site as mobile friendly.
What is a Responsive Website?
A responsive website is one that creates multiple viewpoints for a single site.  The site recognizes the type of device that's requesting the site and displays the version that is the best match for that device.  In other words, if a request comes from a desktop with a large monitor, the site displays accurately for that monitor.  If an IPhone or Android phone request the site, it delivers a smaller version with an adjusted menu that is easy to touch.

Not only were the financial officers of Facebook busy this week but so were the programmers. Three significant changes were launched to Facebook. While they may not be considered major by some, they are significant changes. Here's a recap of what changed.
read more