Mobile / Responsive Website Designs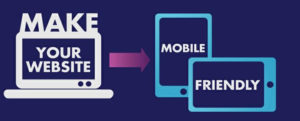 Today's browsing patterns have changed the internet.  Once most searches were done via a desktop or laptop.  Today that's not the case.  76% of all searches for a local business or service are done from a mobile device, either a smartphone or tablet.  If your site isn't mobile friendly, visitors will quickly leave your site and go on to the next one.  While your website may display on one of these devices, that doesn't mean it's functional.  It also doesn't mean that Google recognizes your site as mobile friendly.
What is a Responsive Website?
A responsive website is one that creates multiple viewpoints for a single site.  The site recognizes the type of device that's requesting the site and displays the version that is the best match for that device.  In other words, if a request comes from a desktop with a large monitor, the site displays accurately for that monitor.  If an IPhone or Android phone request the site, it delivers a smaller version with an adjusted menu that is easy to touch.

Tucson Search Engine Optimization (SEO)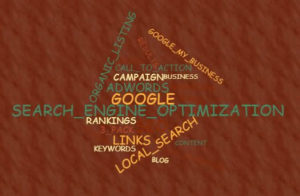 Your site has been designed and is hosted on a reliable server. So the traffic will start flowing in, right? Wrong! The "Field of Dreams" philosophy – If you build it they will come – does not apply to the web. To be successful your web site has to be optimized for the search engines. Tucson SEO – search engine optimization firm, 800biz Ninja Marketing uses the latest techniques to help many of our clients achieve top 10 rankings.
SEO – Search Engine Optimization
"Just add some keywords and meta tags and the search engines will pick up my site, right?" Not on your life. Today search engine optimization is a complex and mysterious process. Search engine optimization is an art, not a science. A science has laws that always apply, such as the law of gravity, etc. Search engine optimization is an ever-changing process. It requires constant study and vigilance. At 800biz, we stay abreast of the changing SEO landscape, so you website can work for you.
The process begins with keyword research. We first research the keywords to see which terms generate the most traffic and to see if any keyword phrases were overlooked. We then design your new website or modify your existing site, to match the most recent search engine criteria.
For a free, no-obligation analysis of your existing web site, contact 800biz. We will analyze you site and give you a quote.
Don't Be Fooled
If you have an email address, you have gotten email that guarantees to get you top 10 rankings. What several of these companies do is use an obsure keyword phrase. Suppose you have an online jewelry store. They might get you a number 1 ranking under the phrase "Gold and silver jewelry with precious gemstones". While the keywords are all ones that would generate traffic, the only way your site would be found is if someone typed that EXACT phrase.
While there are many good SEO firms out there, there are just as many unscrupulous ones. For Tucson websites, wouldn't you rather work with a local Tucson company instead of a company half way around the world.